Individual Cremation for the pet you love.
Pet Rest Cremations will provide a caring and dignified service for your beloved pet whilst respecting your wishes. We will communicate with you and provide support when needed during this difficult time. We can collect your pet from your veterinary surgery, your home or meet with you at the crematorium in Tanawha. Your pet is always in our care from the time of collection through to the cremation which is located at our premise.
Prior to conducting an individual cremation service for your pet we will contact you to finalise your wishes regarding; casket choices, paw print and lock of hair, and other memorial options. We will keep you informed and provide support as needed during this difficult time. Families are welcome to visit the Crematorium. Some families or members of the family may not have had the opportunity to say goodbye to their pet at the time of death. We understand that saying goodbye personally may be important. On request a private viewing of your pet can be arranged. After all of your wishes have been confirmed, we will care for your pet with respect and dignity and provide an individual cremation service for them. Arrangements can then be made with you for your pets ashes to come home or back to your veterinary clinic. Generally, your pets' ashes are ready to return home within a couple of days.
If you would like us to, we will take an inked paw print and or if possible a lock of hair from your pet to keep as a memento. An inked nose print may also be available – We have found that only certain dogs give a clear impression in the ink, please speak to a staff member to see if this is an option for your pet.
If you provide us with a photo of your pet it can be placed on front of the certificate along with 'Your Wishes' requirements. Your Wishes might include a special poem, your pet's dates or your own words to be placed within the certificate alongside their inked paw print and or a lock of hair.
We have a wide variety of specialty urns and memorial products to suit the personality of your beloved friend.
If you have any questions or would like to see more options, please call our office on 5439 6111 or email petrestcremation@bigpond.com
Additional costs apply for specialty urns
*Please note that some urns have limited sizing and may not suit all pet breeds. 
For more options please visit www.petcremationurns.com.au
The rainbow crystal keepsake is a really special way to remember your beautiful friend- either hanging from a tree in your garden, or just inside your home. The prism shape of the crystal creates rainbows when the sunlight reaches it, symbolising the crossing of the rainbow bridge. They are a perfect way to memorialise your beloved pet, especially if you have decided to scatter or bury their ashes somewhere special. The crystal keepsake is able to hold a small portion of ash or a lock of hair ect
Please phone our office on 5439 6111 or email us at petrestcremation@bigpond.com to order a rainbow crystal keepsake.
$50.00
Memorialise your beloved pets paw print by having it impressed into a silver pendant.
Your pets individual paw print will be miniaturised and impressed into a silver pendant by Nikki at Pure Silver Impressions. You can visit her website www.puresilverimpressions.com.au to see some of her beautiful pieces or visit our office to see some examples. To find out more information or to order a special piece to remember your family member please call or email the office at petrestcremation@bigpond.com or 5439 6111
$ Price dependent on piece
Paws to Remember Candles
In collaboration with Bushwalk Candles, we have created two beautiful scents in the Paws to Remember range. Presented in an amber glass jar, and handmade locally on the Sunshine Coast from Beeswax they are exclusive scents specially selected for remembering special friends.
Please contact Pet Rest Cremations on (07)5439 6111 or via email petrestcremation@bigpond.com for more information and orders
$18.00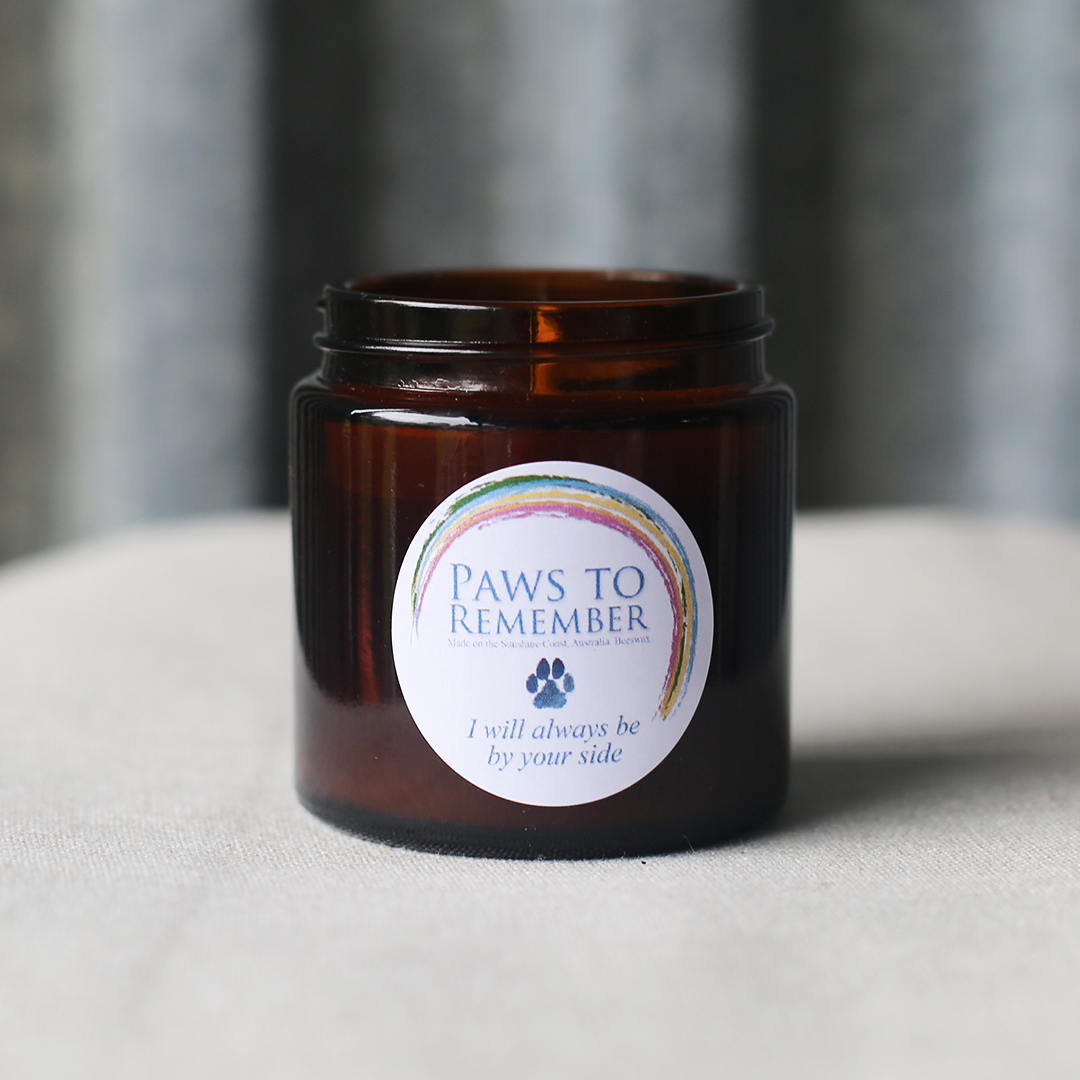 I will always be by your side
A calming blend of Teak and Neroli that reflects the bush and walking with your treasured friend.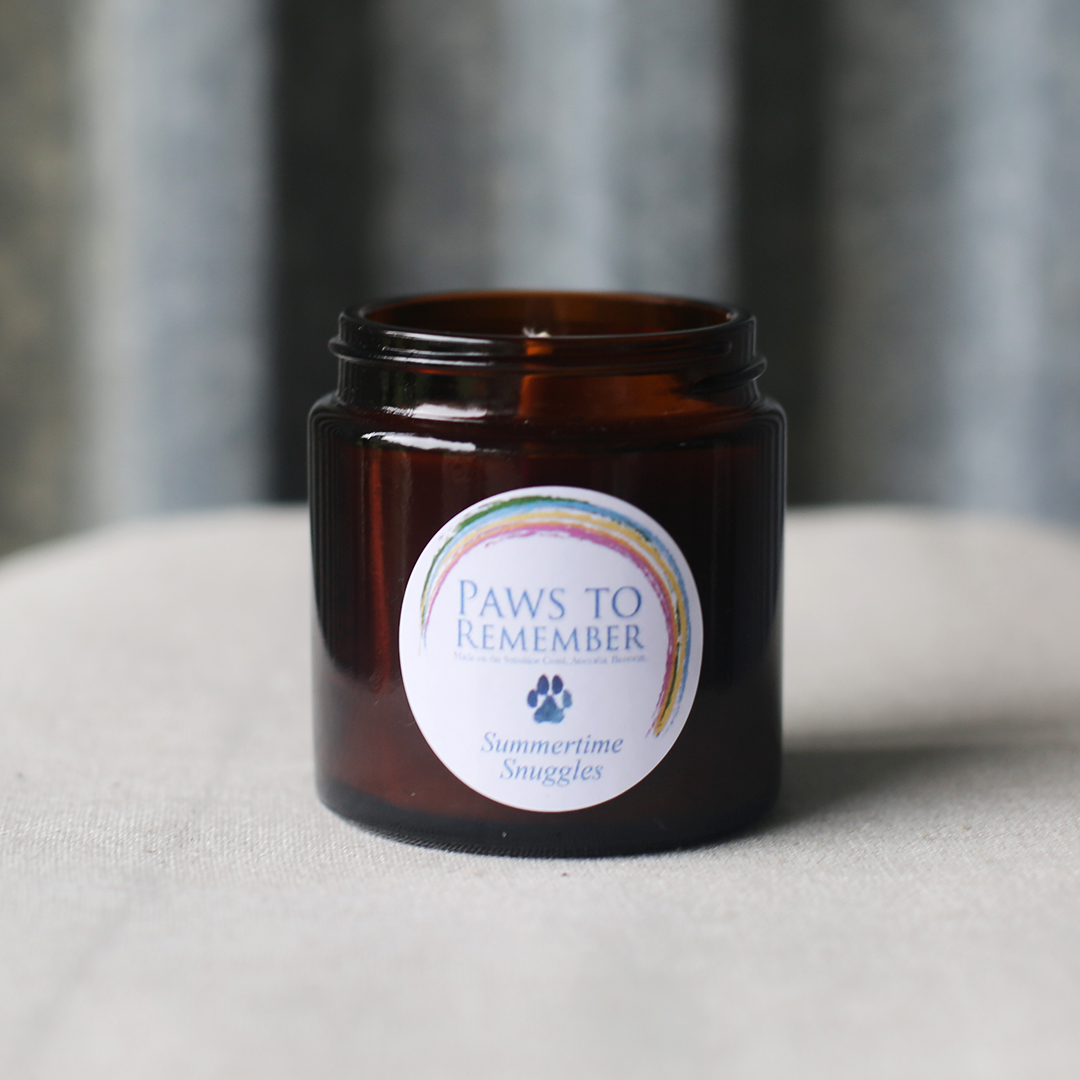 Summertime Snuggles
A mix of Coconut with Lemongrass that echoes the beautiful Sunshine Coast beaches and spending time in the sun with your loyal companion.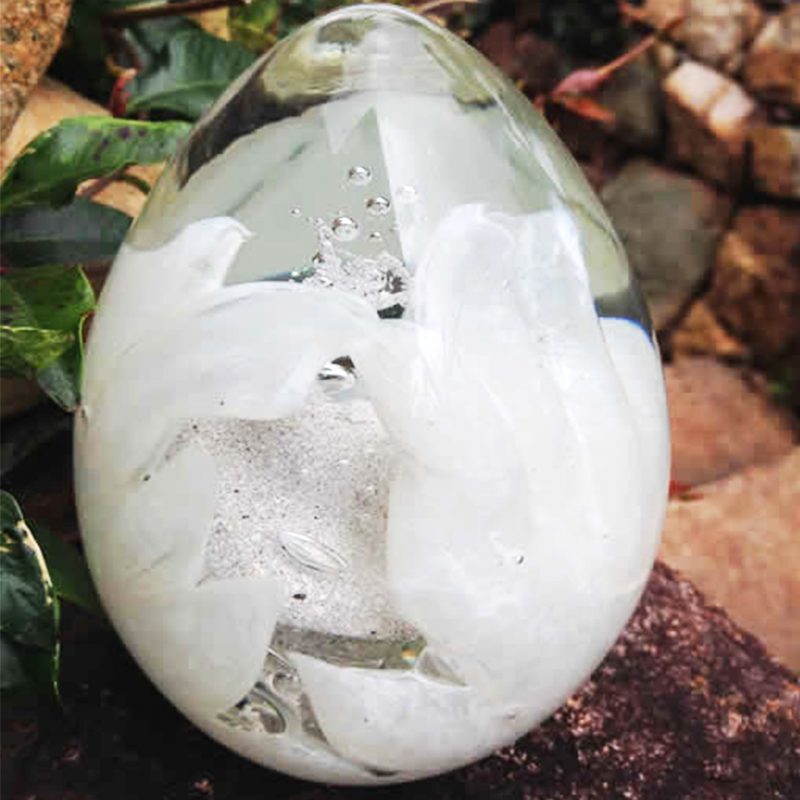 Tina Cooper Angel Wings Orb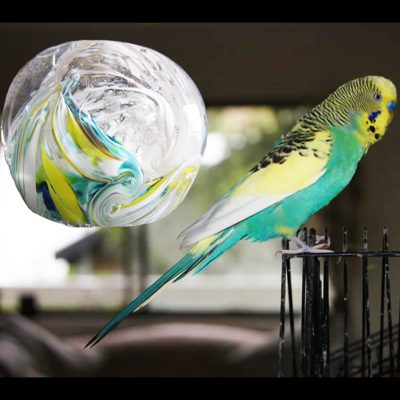 Tina Cooper has come up with the wonderful original idea in 2002 of using her skill as a glass blower to eternalise the memory of your loved pets in beautiful blown glass orbs or urns. These Memorials can encapsulate your loved pets ashes forever in a beautiful piece of artwork.
Imagine the ashes solidified in liquid lava eternalised in an art form recorded through all generations to come. Unaffected by time, in its pristine state will last forever.
The technique can be used for animal ashes so your adored pets are not forgotten and can be around you forever. From Earth to Fire to Water to Air through my breath I give them life.
Please Contact the office for more information and pricing